Book your rental car at the Cordoba train station
One of the most important gateways to the city is undoubtedly the train station.
Every year, thousands of travellers arrive in Cordoba by AVE, and continue their journey to other destinations in Andalusia by car, after having visited the Cordovan capital and its charms.
At Okayautos we know this dynamic very well, since we were the first broker to offer car rental in Córdoba Central Station more than two decades ago.
It was at that time that we gathered a handful of rent a car and tried to serve customers who arrived by AVE. Today, we are the leading brand and reserve more than 25,000 cars a year in this destination, thanks to our transparent rates and no small print, low cost prices and unbeatable rental conditions.
Enter your trip details now and see how far we can go with our offers. We guarantee unlimited availability and immediate confirmation on practically all of our fleet of vehicles.
Okayautos offers you the best car rental rates in Cordoba.
Book with full confidence, with all-inclusive prices and no surprises.
---
Rent a car in Cordoba with debit cards
At Renfe station and in the city downtown, we offer you the possibility of reserving your car rental in Cordoba without a credit card.
Check in the search results which companies participate in this program by applying the dedicated filter.
You will be able to book and pick up your car comfortably only with a debit card, as long as it meets the requirements contained in the vehicle rental conditions.
In no case will we accept checks or cash.
Rent an SUV car in Cordoba if you want to save both on rates and consumption.
They will be good travel companions, since all the big brands have greatly improved in terms of comfort in this vehicle segment.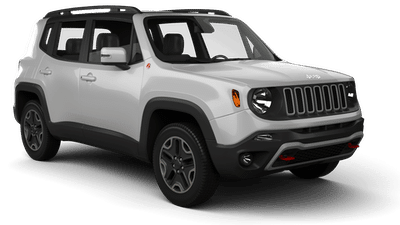 Radio Bluetooth Air Conditioning
Are you ready for your next road trip from Cordoba?
A road trip starting from Cordoba with a rental car is a great way to explore the stunning landscapes and historic towns of southern Spain.
Here's a suggested itinerary for a road trip starting from Cordoba:
Day 1: Start your trip by exploring the historic centre of Cordoba, including the Mezquita-Catedral and Alcazar de los Reyes Cristianos. Take a stroll through the beautiful Jewish Quarter and enjoy some delicious local cuisine.
Day 2: Drive east to Granada and spend the day exploring the stunning Alhambra Palace, a UNESCO World Heritage Site known for its stunning architecture and beautiful gardens. In the evening, explore the lively nightlife of Granada's Albaicin neighbourhood.
Day 3: Head south to the coastal city of Malaga, stopping along the way to take in the stunning views of the Sierra Nevada mountains. Spend the day exploring the beautiful beaches, museums, and historic sites of Malaga.
Day 4: Drive along the Costa del Sol to the charming town of Nerja, known for its beautiful beaches and stunning sea views. Take a stroll through the town's historic centre and enjoy some fresh seafood at one of the many local restaurants.
Day 5: Drive northwest to Ronda, a picturesque town perched on the edge of a cliff. Explore the town's historic bullring, stunning bridge, and beautiful gardens. Enjoy some local wine and cuisine in one of the town's many restaurants.
Day 6: Drive north to the city of Seville, stopping along the way to take in the stunning views of the Sierra de Grazalema Natural Park. Spend the day exploring the stunning Alcazar Palace, the beautiful Plaza de Espana, and the lively Barrio Santa Cruz neighbourhood.
Day 7: Drive back to Cordoba and return your rental car.
With a rental car, you can easily explore all of these amazing destinations and more at your own pace.
So why wait? Book your car rental with Okayautos and start planning your perfect road trip from Cordoba today.
We work with all the rent a car companies in the Córdoba station
Being one of the most important destinations in Andalusia, all the important brands have wanted to have a presence at the station with their car rental service in Córdoba.
Alamo, represented by Enterprise, Avis, Budget, Europcar are just a few of the names you will recognize upon arrival and are included in your search results.
Comparing the prices of these companies will lead you to save up to 70% on seasonal rates. No matter the length of your rental. We have special prices for both a day and a week. Our suppliers will be happy to give you the best deal and deliver new and revised cars to each rental to guarantee safety and comfort.
At the end of each rental we send a questionnaire by email to find out the honest opinion of our clients and thus have a clear idea of how our rent a car is working.
Okayautos.com is the best search engine for rental cars in Córdoba.