Book now your rental car at Murcia Airport
This airport has always been one of the most demanded by our customers and has been experiencing unstoppable growth for years.
Every year, more than three million travelers choose this destination as an alternative to visiting La Costa del Sol or the Balearic Islands.
Two seas (Mar Menor and the Mediterranean), impressive cliffs, paradisiacal and lonely white sand beaches, are part of the description to this very special destination.
For this and for a thousand other reasons, we have decided to be present with the best car rental service in Murcia airport.
Thanks to the recognized track of both nationally and internationally rent a car companies, we can deliver more than 50,000 vehicles each year to customers of more than 25 different nationalities.
Reserve yours through our new search engine. Compare the rates of all the car rentals in Murcia, and you will surely find a rental car that suits your budget and needs.
Our agents form a team prepared and willing to help you at all times.
Okayautos offers you the best rates for car rental in Murcia.
We compare the prices of more than 35 car rentals to give you all-inclusive rates and no surprises.
---
Rent a car in Murcia with debit cards
Our company has always been very attentive to the needs of customers. Since its birth, more than two decades ago, we have been the first broker to offer car rental in Murcia without a credit card, just as we do in the rest of Spain and in more than 25,000 world destinations.
Thanks to the agreements established between Okayautos and various rent a car companies present at the Murcia Airport, holders of certain types of debit cards will be able to access our services without any problem.
Reserving your vehicle is easy. Apply the filter "Cards accepted at the time of collection" to your search results and check the rental conditions to make sure that your means of payment is accepted as an alternative to a credit card.
Look at details such as the deposit, the excess and more generally in the chapters referring to insurance and payment of your reservation.
If you travel to this region in the summer, don't miss out on the possibility of renting a convertible car in Murcia to enjoy the sun and good temperatures.
With much less than you imagine, transform your trip into something exotic and unforgettable thanks to Okayautos and its fleet of special vehicles.
Book in advance to make sure to get your favorite car, specially those, like the convertibles, that are extremely demanded models in high season.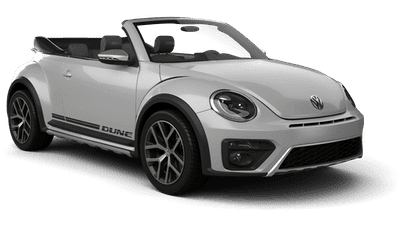 Radio Bluetooth Air Conditioning
What to see in Murcia with a rental car
This is probably one of the most undervalued regions in terms of tourism. It is well known that Manga del Mar Menor has international recognition. However, historical and cultural attractions of Murcia have been left behind.
The Capital of Murcia is, for example, one of the most interesting cities and one of the least known in Spain. A couple of days of visiting will bring you up to speed with a destination you will never forget.
Don't be scared to rent a car, as the traffic is quite light and there are a wide variety of public car parks.
Make sure to visit Cartagena and its Roman theater. Both are a jewel of Cartagena historical heritage. Also, check the Isaac Peral house, the Naval and Archaeological Museum, the cathedral and the Sea Wall.
Various cultures left their legacy in the Province of Murcia province, and you will be able to get to know them comfortably during your stay in the region.
If nature and hiking are your thing, the Sierra Espuña awaits you with a natural park of extreme beauty. Both the paths and the panoramic views will give you another point of view of this region that is not just beach and sand.
You can arrive in one hour from the center of Murcia on the A7 Freeway towards Alhama (South).
We offer you the best rent a car in Murcia
Since we started this adventure, we have always been clear about the need to select our providers well.
That is why with Okayautos you always have the guarantee of satisfaction, and of having chosen the best rent a car in Murcia.
We take care of enforcing strict quality and safety standards so that you always find the best value for money for your rental.
We have brought together the big names in the sector, and we also collaborate with local companies present at Murcia Airport to guarantee unlimited availability, immediate confirmation and obviously the best guaranteed rate on the entire fleet.
Alamo, Avis, Budget, Europcar, Enterprise, Hertz join Centauro, Ok Rent a Car, Drivalia Leasys, to offer you the car you are looking for.
Frequently Asked Questions – Rent a car in Murcia Airport
What are the requirements to rent a car in Murcia?
Each car rental company has its requirements, which you will be able to find out at the time of your search. The general ones are the following:
Minimum age 25 years.
One year or more of driver's license.
Credit card (or debit card if allowed by the rent a car).
Confirmed reservation and its related voucher printed.
Customers between 19 and 25 years old can book by entering the age to see the total rates with the young driver supplement included. Find your car now!
How to book a cheap rental car in Murcia?
If you want to know how much a car rental in Murcia costs or how to save, contact our customer service or do a search through our website. As a general rule, the best way to save on your rental is to book in advance.
Where are the cars picked up and returned to Murcia Airport?
Almost all the car rentals are at the airport. Those external have a free shuttle bus service that picks up customers with reservations in the arrivals area.
Can I reserve a diesel car?
Yes, our car rental fleet in Murcia is very varied and includes diesel, hybrid, and gasoline vehicles.
Can I book a rental car in Murcia and return it somewhere else?
Yes, one way rentals are allowed to more than 250 other Spanish destinations. Make sure to book in advance.
Car rental agencies in Murcia
Avis Murcia Airport


Murcia Highway, Exit 161




Baños y Mendigo

,

ES

30155




+34 968 97 58 53


Prices:

€10 - €129

Hours:


Monday-Sunday 09:00 – 24:00

Budget Murcia Airport


Murcia Highway, Exit 161




Baños y Mendigo

,

ES

30155




+34 968 97 58 53


Prices:

€8 - 89

Hours:


Monday-Sunday 09:00 – 24:00

Centauro Murcia Airport


161 Polygon, 73, RM-17,




Lo Jurado

,

Spain

30156




+34 966 36 03 60


Prices:

€9 - €95

Hours:


Monday-Sunday 08:00 – 22:00

Drivalia Leasys Murcia Airport


Arrivals Terminal




Lo Jurado

,

Spain

30156




+34 968 92 18 18


Prices:

€9 - €147

Hours:


Monday-Sunday 08:00 – 23:00

Europcar Murcia Airport


España Avenue, 101




Lo Jurado

,

Spain

30154




+34 968 33 55 46


Prices:

€7 - €106

Hours:


Monday-Sunday 07:00 – 22:00

Goldcar Murcia Airport


España Avenue, 101




Lo Jurado

,

Spain

30154




+34 910 21 01 03


Prices:

€9 - €119

Hours:


Monday-Sunday 09:00 – 20:30

Ok Mobility Murcia Airport
Santos Ángeles Custodios Street

Los Martines del Puerto

,

Spain

30156




+34 902 36 06 36


Prices:

€7 - €119

Hours:


Monday-Sunday 09:00 – 19:00

Sixt Murcia Airport


Arrivals Terminal, Terminal 2 & 3




Murcia

,

Spain

30156




+34 871 18 01 92


Prices:

€12 - €149

Hours:


Monday-Sunday 07:00 – 23:00
Okayautos.com is the best search engine for rental cars in Murcia.