Car rental at La Coruña Airport and downtown
Although La Coruña Airport does not have large numbers of passenger traffic, several rent a car companies have a presence in the Galician airport terminal, offering the best car rental service in La Coruña.
Connections are almost exclusively national, with the sole exception of passengers in transit from other airports such as Madrid o de Barcelona.
Our sector is widely covered by national and international companies, so you will enjoy unlimited availability and immediate confirmation of your request, even in high season.
Book your car now and don't forget to compare the rates. You will be taking advantage of our special offers with discounts of up to 70% on the standard season rates.
Okayautos offers you the best car rental rate in La Coruña.
Enjoy all-inclusive, easy-to-understand rates. With everything you need already included in the price.
---
Rent a car in La Coruña with debit cards
By reserving with Okayautos you can decide whether to rent a car with a credit or debit card in La Coruña. On the search results page, apply the filter to see which car rentals allow you to rent with debit cards.
This exclusive service is dedicated to those who do not have a credit card, travelers who until now could not access the service and who today find a solution thanks to the efforts of our agents.
What are the characteristics of the accepted cards? Please read the following:
Visa or Mastercard;
Embossed name and numbers;
Debit cards associated with a bank account and not reloadable;
In case of any doubts, contact our agents. They will be happy to offer you the best assistance to organize your next trip.
An SUV is perhaps the best vehicle for the characteristics of this destination.
It will be a comfortable car for the city, and also for trips throughout Galicia, a fascinating land that surely deserves a to be explored.
Enjoy the best models, such as the Jeep Renegade or Grand Cherokee, the Nissan Qashqai or the Kia Sportage.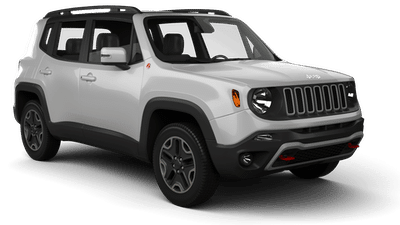 Radio Bluetooth Air Conditioning
What to see in La Coruña with a rental car
Surely you have wondered if it is worth renting a car in La Coruña for your trips. We have the answer to this question, and it is a resounding yes.
Because traveling to this destination doesn't just give you the chance to see one of the most fascinating cities in northern Spain. It puts at your feet a beautiful region full of touristic places and of gastronomic interest.
The first word of advice is that after spending a day or two in the capital, organize a road trip along La Costa de la Muerte (or Costa da Morte in Galician).
Here, nature awaits you with breathtaking landscapes that you would never have imagined, and charming towns that will add up so many unforgettable memories.
Many travelers have dedicated themselves in recent years to discovering this area of ​​Spain, less valued by tourism, perhaps because of the not always so friendly climate.
We choose the best rent a car companies for you
With Okayautos you will not have to worry about choosing the provider for your vehicle. Our agents are in charge of filtering and proposing only those car rentals that meet our high quality standards.
We look at more than 20 aspects, from the quality of customer service to the state of the fleet, so that all you have to do is choose the car that best suits your budget.
The opinions we receive at the end of each rental are precious and help us to know in real time the performance of our business partners.
On the results page, you can organize the cars by price and by the recommendations of those who have used our services before.
Frequently Asked Questions - Car rental in La Coruña
What are the requirements to rent a car in La Coruña?
The conditions and requirements depend on each car rental company. However, the common requirements are:
Minimum age of 25 years old.
One year or more of driver's license.
Credit Card (or debit card, if allowed by the company).
Confirmed booking and printed voucher.
Clients between 19 and 25 years old can book by entering the age to see the total rates with the young driver supplement included. Search for your car now!
How to book a cheap car in La Coruña?
The best way to find a cheap rental car in La Coruña is early booking. Look for your car as far in advance as possible. In this way you can choose between more models and enjoy our discounts.
Where are the cars picked up and returned to La Coruña Airport?
All car rentals work in the arrivals terminal. Third-party providers may also appear in the search results.
Can I book a rental car in La Coruña and return it elsewhere?
Yes, one way rentals are allowed if reserved in advance. Enter the final destination of your trip to see all the options.
Rent a car companies in La Coruña
Alamo La Coruña Airport


Arrivals Terminal




Culleredo

,

Spain

15180




+34 981 66 23 65


Prices:

€9 - €99

Hours:


Monday-Sunday 08:30 – 21:30

Avis La Coruña Airport


Arrivals Terminal




Culleredo

,

Spain

15180




+34 902 09 03 13


Prices:

€10 - €129

Hours:


Monday-Sunday 08:15 – 17:15

Budget La Coruña Airport


Arrivals Terminal




Culleredo

,

Spain

15180




+34 902 09 03 13


Prices:

€10 - €129

Hours:


Monday-Sunday 08:15 – 17:15

Enterprise La Coruña Airport


Arrivals Terminal




Culleredo

,

Spain

15180




+34 981 66 23 65


Prices:

€9 - €129

Hours:


Monday-Sunday 08:30 – 21:30

Europcar La Coruña Airport


Shuttle Bus




Culleredo

,

Spain

15180




+34 911 50 50 00


Prices:

€9 - €99

Hours:


Monday-Sunday 08:30 – 22:00
Okayautos.com is the best search engine for rental cars in La Coruña.