Book now your car. Top brands, a premium fleet and great service.
The best rental car rates in El Hierro
El Hierro is a beautiful island located in the westernmost part of the Canary Islands, known for its stunning landscapes, crystal-clear waters, and rich cultural heritage.
Renting a car on El Hierro is a great way to explore all that the island has to offer, from its stunning beaches to its ancient forests and charming towns.
Whether you're looking for a relaxing beach holiday or an adventurous outdoor getaway, El Hierro has something for everyone.
In this post, we'll take a closer look at car rental options on El Hierro and some top attractions to check out while you're exploring the island by car.
Okayautos offers you the best car rental rates in El Hierro.
Enjoy incomparable prices and conditions on more than 35 vehicle models.
---
Rent a car in El Hierro with debit card
Good news for clients looking to rent a car without the need of a credit card.
We have negotiated with some providers the possibility to offer our services with debit car, under certain conditions that are presented at the moment of the search.
Apply the filter on the results page to see what companies accept debit, and find out the details of this exception that will allow you to access our offers without a credit card.
In the rental conditions you will be able to know the obligatory characteristics of the card in order to be able to rent a car in El Hierro without a credit card.
If you're planning to explore the rugged terrain and natural beauty of El Hierro, renting an SUV is a great idea.
An SUV will provide you with the extra space, power, and clearance needed to navigate the island's winding roads and rocky trails.
When renting an SUV on El Hierro, be sure to consider the size and features that best suit your needs.
Look for a vehicle that has good ground clearance and four-wheel drive to handle the island's challenging terrain.
Be sure to check the rental agreement for any restrictions or fees related to off-road driving, as some rental companies may have limits on where you can take the vehicle.
With the right SUV and a sense of adventure, you'll be able to explore all that El Hierro has to offer in style and comfort.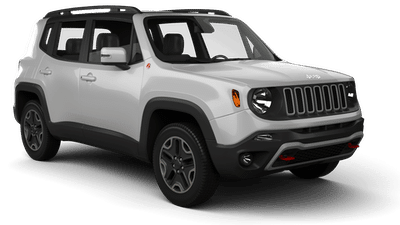 Radio Bluetooth Air Conditioning
The best rental cars in El Hierro work with Okayautos
Nowadays, renting a car in El Hierro is a simple task.
When Okayautos first opened to the car rental industry, its main goals were defined, simplifying the reservation process and preselecting suppliers for the clients benefits top the list.
This has been the secret of our success, which today places us as the best car rental broker nationwide.
Our team periodically inspects all suppliers and certifies them in terms of quality of the fleet, service, facilities, and customer support.
Thanks to the opinions of our clients, we are able to know in real time the performance of our business partners and the level of satisfaction they offer for each of their rental cars in El Hierro.
El Hierro, the ideal destination for a trip by car
El Hierro is a small island, but it's packed with stunning natural attractions and charming towns to explore.
Renting a car on El Hierro will give you the freedom to explore the island's many sights and hidden gems at your own pace.
Here are some of the top attractions to check out while exploring El Hierro by car:
Mirador de la Peña: This stunning lookout point offers panoramic views of El Golfo valley and the surrounding sea cliffs.

El Hierro Biosphere Reserve: This UNESCO-designated reserve is home to unique flora and fauna, including ancient forests and endemic species.

Roque de la Bonanza: This towering rock formation is a popular spot for hiking and offers stunning views of the surrounding landscape.

Charco Azul: This natural swimming pool is fed by ocean waves and surrounded by lava rocks, making it a perfect spot to cool off on a hot day.

Valverde: This charming town is the capital of the island and features colourful buildings, beautiful gardens, and traditional Canarian architecture.

El Hierro Giant Lizard Reserve: This reserve is home to the endangered El Hierro giant lizard, a unique species found only on the island.

El Golfo Valley: This lush valley is home to ancient laurel forests and is a popular spot for hiking and birdwatching.
With a rental car, you'll have the freedom to explore all of these amazing attractions and more on El Hierro.
Just be sure to follow all traffic laws and drive safely on the island's narrow, winding roads.
Okayautos.com is the best search engine for rental cars in El Hierro.