The best rental car rates in Leon
Leon, Spain is a charming city with a rich history and stunning architecture that attracts tourists from all over the world.
While exploring this beautiful city, having a reliable mode of transportation can make all the difference in your travel experience.
That's where Okayautos comes in. Okayautos is a reliable and convenient car rental booking engine that compares rates from more than 25 car rental companies in Leon.
With a wide selection of vehicles and competitive prices, Okayautos makes it easy to find the perfect car rental for your needs and budget.
Whether you're looking for a compact car to navigate the city's narrow streets or a spacious SUV to explore the surrounding countryside,
Okayautos has you covered. So, book your Leon car rental with us today and discover all that the city has to offer with the freedom and flexibility of your own vehicle.
Okayautos offers you the best car rental rates in Leon.
Enjoy incomparable prices and conditions on more than 35 vehicle models.
---
What to see in Leon with a rental car
There are many exciting places to visit in Leon, Spain, and having a rental car can give you the freedom and flexibility to explore them all.
Here are some of the top attractions to see in Leon with a rental car:
Leon Cathedral: This stunning Gothic cathedral is one of the most important landmarks in Leon and a must-see for any visitor to the city.

San Marcos Monastery: A beautiful example of Spanish Renaissance architecture, this historic monastery is now a luxury hotel and a fascinating place to explore.

Casa Botines: Designed by the famous architect Antoni Gaudí, this unique building is a must-see for anyone interested in modernist architecture.

Parque Natural de las Batuecas-Sierra de Francia: Just a short drive from Leon, this beautiful natural park is a great place to go hiking or enjoy a picnic.

Caves of Valporquero: Located about an hour's drive from Leon, these stunning underground caves are a must-see for nature lovers.

Plaza Mayor: This beautiful square is the heart of Leon's old town and a great place to sit and people-watch while enjoying a coffee or a glass of wine.

Leon Museum: This fascinating museum tells the story of Leon's rich history and is a great place to learn about the city's culture and traditions.
With a rental car from Okayautos, you can easily explore all of these exciting attractions and more in Leon, Spain.
If you're planning a trip to Leon, Spain and want to explore the surrounding countryside, then renting an SUV could be a great option.
Here are some reasons why an SUV rental could be the perfect choice for your trip to Leon:
Comfortable and Spacious: SUVs are generally more spacious and comfortable than smaller cars, making them perfect for longer journeys or for travelling with a group of friends or family.

Off-Road Capabilities: Many SUVs have off-road capabilities, which means you can explore the more rugged terrain around Leon with ease. Whether you want to go off the beaten path or explore some of the more remote parts of the region, an SUV will be able to handle it.

Safety: SUVs are mostly safer than smaller cars, with better crash-test ratings and more advanced safety features. This can provide peace of mind when driving on unfamiliar roads in a new country.

Storage Space: SUVs often have more storage space than smaller cars, which is ideal for carrying luggage, outdoor gear, or anything else you might need for your trip.

Better Visibility: SUVs have a higher driving position than smaller cars, giving you better visibility on the road. This can be particularly useful when navigating narrow, winding roads or when driving in unfamiliar territory.
Overall, renting an SUV can be a great option for exploring the beautiful countryside around Leon, Spain.
Okayautos has a great selection of SUV rentals to choose from, so why not book yours today and get ready for an unforgettable adventure.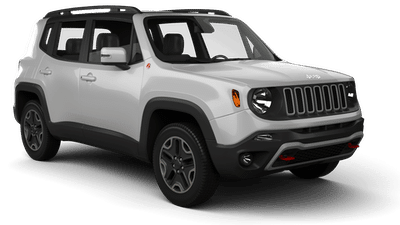 Radio Bluetooth Air Conditioning
Okayautos.com is the best search engine for rental cars in Leon.