More than 15 locations for your Madeira Car Hire
If you're planning a trip to the stunning island of Madeira in Portugal, car rental is one of the best ways to explore its many attractions and hidden gems. A
nd if you're looking for a reliable and affordable car rental service in Madeira, Okayautos is the perfect choice.
With a wide selection of vehicles and competitive prices, Okayautos makes it easy and convenient to book your car rental online, and enjoy the freedom and flexibility of exploring Madeira at your own pace.
In this article, we'll take a closer look at the benefits of renting a car with Okayautos in Madeira, and provide some tips to help you make the most of your rental experience.
Okayautos offers you the best Madeira car rental rates.
Enjoy incomparable prices and conditions on more than 35 vehicle models.
---
Start planning your next road trip in Madeira
A road trip in Madeira Island with a rental car is a fantastic way to explore this beautiful destination.
Here are some of the top places to see on your journey:
Funchal: The capital city of Madeira offers a wealth of attractions, from historic sites like the Sé Cathedral and the Monte Palace Tropical Garden to cultural hotspots like the Madeira Wine Museum and the Art Center Caravel.

Pico do Arieiro: One of the highest peaks in Madeira, Pico do Arieiro offers breathtaking views of the island from its summit, accessible by car via a scenic mountain road.

Curral das Freiras: Nestled in a valley surrounded by towering mountains, is a picturesque village famous for its chestnut production and traditional sweets.

Porto Moniz: Located on the north coast of the island, Porto Moniz is known for its natural swimming pools carved out of volcanic rock, as well as its stunning coastal scenery.

Ponta de São Lourenço: A rugged peninsula on the eastern tip of Madeira, boasts stunning sea views and dramatic rock formations, accessible by car via a winding road through the protected natural reserve.

Cabo Girão: One of the highest sea cliffs in the world, offers panoramic views of the Atlantic Ocean and the island's rugged coastline, accessible by car via a scenic road with viewpoints along the way.
These are just a few highlights of a road trip in Madeira Island with a rental car.
With its stunning natural beauty and diverse attractions, Madeira is the perfect destination for a memorable road trip adventure.
Renting an SUV in Madeira can be the best idea for several reasons.
Here are a few reasons why an SUV rental can be beneficial for your trip:
Comfort and Space: SUVs are typically more spacious than regular cars, providing a more comfortable ride, especially on longer journeys. With plenty of room for luggage and passengers, an SUV can make your road trip in Madeira more comfortable and enjoyable.

Safety: SUVs are designed to handle rough terrains, making them ideal for exploring the more rugged and off-the-beaten-path areas of Madeira. With their higher ground clearance and four-wheel drive capabilities, SUVs can provide better traction and stability on unpaved or uneven roads.

Versatility: Madeira is a destination with a diverse range of landscapes, from rugged mountains to sandy beaches, and an SUV can provide the versatility to explore them all. Whether you're driving along winding mountain roads or navigating narrow coastal paths, an SUV can handle a variety of driving conditions with ease.

Weather Conditions: Madeira is known for its unpredictable weather, and an SUV can provide better protection from the elements than a regular car. With its larger size and sturdy build, an SUV can help you feel more secure and confident while driving in adverse weather conditions.
Overall, renting an SUV in Madeira can offer a more comfortable, safe, and versatile driving experience, allowing you to explore this beautiful island with greater ease and confidence.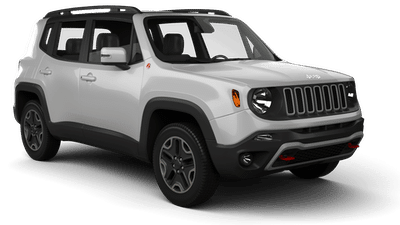 Radio Bluetooth Air Conditioning
Frequently asked questions — Madeira Car Hire
How do I book a car rental in Madeira?
You can book a car rental in Madeira online through Okayautos, which offers a convenient and user-friendly booking platform.
What documents do I need to rent a car in Madeira?
You will need a valid driver's license, a credit card in your name, and a passport or national ID card to rent a car in Madeira.
What is the minimum age requirement to rent a car in Madeira?
The minimum age requirement to rent a car in Madeira is 21 years old, although some rental companies may require a higher minimum age or charge a young driver fee for drivers under 25 years old.
Do I need insurance when renting a car in Madeira?
Yes, it is recommended to have insurance when renting a car in Madeira. Most rental companies offer basic insurance coverage, but additional coverage options are available for extra peace of mind.
What types of cars are available for rental in Madeira?
Most rental companies in Madeira offer a variety of car types, including economy cars, compact cars, SUVs, and luxury cars, depending on your preferences and budget.
Are there any additional fees to be aware of when renting a car in Madeira?
Yes, additional fees may include airport surcharges, fuel charges, GPS rental fees, and additional driver fees, among others.
Can I modify or cancel my car rental reservation in Madeira?
Yes, most rental companies in Madeira allow modifications or cancellations to your reservation, but there may be fees involved, depending on the rental company's policies.
What are the benefits of renting a car in Madeira?
Renting a car in Madeira provides the freedom and flexibility to explore the island's many attractions at your own pace and on your schedule, without the limitations of public transportation or tour groups.
Okayautos.com is the best search engine for rental cars in Madeira.