The best rental car rates in the city and Reus Airport
If you're planning a trip to Reus, Spain, and want to explore the surrounding area at your own pace, renting a car can be an excellent option.
Located in Catalonia, Reus is a charming city known for its Modernist architecture, lively shopping streets, and proximity to some of Spain's best beaches.
By renting a car in Reus, you can easily drive to nearby towns and cities, such as Tarragona and Barcelona, as well as beautiful beaches like Salou and Cambrils.
There are also several natural parks and reserves in the area that are worth a visit, such as the Parc Natural dels Ports and the Ebro Delta Natural Park.
Renting a car in Reus is a straightforward process, with many car rental companies offering their services in and around the city.
Some of the most popular car rental companies in Reus include Avis, Europcar, Hertz, and Enterprise, among others.
You can book your car rental in advance online using our booking engine.
When choosing a rental car in Reus, it's important to consider your travel needs and preferences.
If you're traveling alone or as a couple and plan to spend most of your time in the city, a compact, or economy car may be a good choice.
On the other hand, if you're travelling with a group or plan to visit the beach or natural parks, an SUV or larger car may be more comfortable and practical.
Overall, renting a car in Reus can be a convenient and cost-effective way to explore the beautiful region of Catalonia.
With a wide range of car rental options and competitive prices, you can easily find a rental car that fits your budget and travel needs.
Okayautos offers you the best car rental rates in Reus.
Enjoy incomparable prices and conditions on more than 35 vehicle models.
---
If you're planning to explore the beautiful region of Catalonia, renting an SUV in Reus with Okayautos can be an excellent choice.
SUVs are a popular choice for travellers who want a comfortable and spacious car to drive around the city and its surrounding areas.
SUVs are especially practical for those who plan to travel with a group or family, as they offer plenty of space for passengers and luggage.
They also have higher ground clearance and more powerful engines, making them ideal for driving on rough terrain or up hills.
At Okayautos, we offer a wide range of SUVs from top car rental companies in Reus, such as Avis, Europcar, and Hertz, among others.
You can compare rates and car models from multiple providers to find the best SUV rental deal for your travel needs and budget.
With an SUV rental from Okayautos, you can explore the beautiful Catalan countryside and coastline in comfort and style.
Whether you plan to visit the charming towns of Tarragona and Salou, or drive to the stunning natural parks of Delta de l'Ebre and Parc Natural dels Ports, an SUV rental can make your journey more enjoyable and stress-free.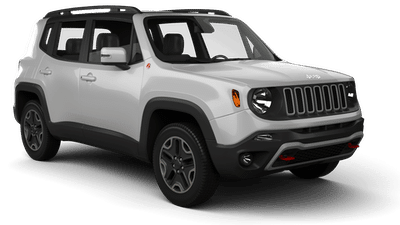 Radio Bluetooth Air Conditioning
Plan your next road trip starting from Reus
Reus, located in the heart of Catalonia, is a great starting point for a road trip to explore the beautiful region of northeastern Spain.
With a rental car from Reus, you can easily discover some of the best beaches, charming towns, and stunning natural parks that Catalonia has to offer.
One of the must-see destinations in the area is the coastal town of Salou, which is only a 15-minute drive from Reus. Known for its golden beaches, lively nightlife, and amusement parks, Salou is a popular destination for tourists and locals alike.
You can spend a day sunbathing on the beach, strolling along the promenade, or enjoying the thrills of PortAventura Park, one of Europe's largest theme parks.
Another beautiful beach town worth visiting is Cambrils, located just a short drive south of Salou. Cambrils is a quieter and more relaxed destination than Salou, with a charming old town, a picturesque marina, and several beautiful beaches.
You can rent a bike and explore the town's cycle paths, sample fresh seafood at one of the many seafood restaurants, or simply relax on the beach and soak up the Mediterranean sun.
If you're interested in history and culture, a visit to the ancient Roman city of Tarragona is a must. Located just a 20-minute drive from Reus, Tarragona is a UNESCO World Heritage site that boasts an impressive collection of Roman ruins, including an amphitheater, a circus, and a Roman wall.
You can also visit the Tarragona Cathedral, a beautiful Gothic building that dates back to the 12th century, or stroll along the Rambla Nova, a tree-lined pedestrian street that leads to the Mediterranean Sea.
For nature lovers, a visit to the Ebro Delta Natural Park is a must. The park, located about an hour's drive south of Reus, is a wetland area that is home to a rich variety of birdlife, including flamingos, herons, and eagles.
You can rent a kayak and explore the canals and lagoons of the park, or hike along the many trails that wind through the marshes and dunes.
In conclusion, a road trip starting in Reus offers endless opportunities to explore the beauty and diversity of Catalonia.
With a rental car from Reus, you can easily visit the best beaches, charming towns, and stunning natural parks in the area, making your journey an unforgettable experience.
Okayautos.com is the best search engine for rental cars in Reus.